Starter Batteries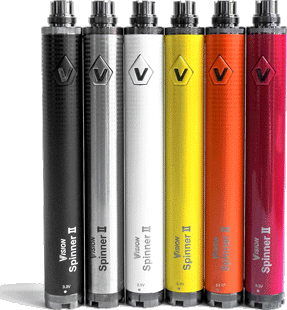 Basic eGo-style e-cig batteries. If you only have a basic clearomiser you will probably only need a basic or mid-level vaping battery. Take the advice of someone you consider an experienced vaper or call us for advice if needed. SEE our ADVICE page for tips and information about vaping and e-liquids.
If you're unsatisfied with the quantity of vapour per puff or the length of time e-cig batteries last on a charge - consider upgrading to a more powerful battery and advanced clearomiser tanks. Controllable high-powered vaping batteries are designed for more advanced clearomisers/tanks, last longer on a charge and have the potential to produce more vapour than basic e-cig batteries.
The "510" vaping battery thread is standard for most clearomiser tanks and batteries. A beauty ring is sometimes used to improve the look of the battery-clearomiser joint if the two parts were not specifically designed to go together. Some vaping batteries and tanks include a beauty ring in the pack.
Always charge vaping batteries completely before using. Do not store battery in a hot or humid environment. Do not puncture battery. Do not force battery connection to other attachments. Always use the right vaping battery for your atomiser.
Shenzhen GreenSound High-Tech

GS eGo2 2200mAh rechargeable e-cigarette Battery. A great looking vaping device battery in various colours. Diameter is 18mm, length 64mm. Manufactured by the Shenzhen GreenSound High-Tech Co. Ltd. Always charge e-cigarette batteries completely before...