ATOMISERS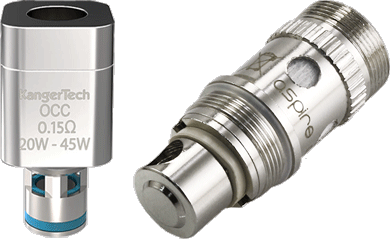 Replacement atomisers/coils for Innokin, Kanger, Aspire, Joyetech, Smok, Vapeston, ProTank, Beyang, UWELL and Horizon Tanks/Clearomisers. If you need any other type of atomiser/coil please call us. SEE our ADVICE page for tips and information about vaping, e-cigarettes and e-liquids.
Tips for using atomisers
All atomisers have a coil that heats your e-juice - coils don't last forever - anything from 1 to 6 weeks, thus you do need to buy replacement atomisers for when they stop working properly.
There are a number of rules to follow in preserving and prolonging the life of an atomiser/coil. Don't deliver too much voltage/wattage to the atomiser coil or you could burn the wick or carbonise the coil which will ruin the atomiser (see the writing on the side of the atomiser or box/manual or study and follow OHM'S LAW). ALSO make sure the wick is fully wet with e-liquid before you press the power button - let the juice settle and allow air bubbles to emerge from the atomiser. Top up the e-liquid in your tank before it runs dry - powering a dry atomiser is bad news! If your battery is the correct one for your coil, is fully charged and set at the correct wattage, yet you are experiencing a bad vaping experience - try a new atomiser/coil - chances are the atomiser has passed its usable life.