Tonix e-liquids by Element 73%VG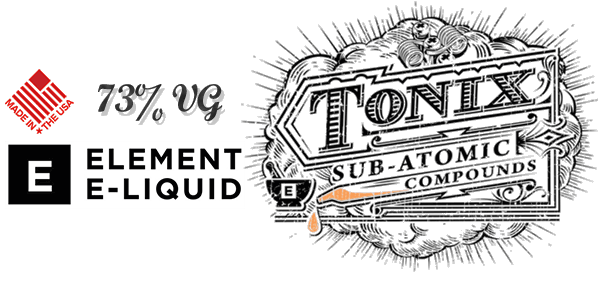 Tonix e-liquids by Element is a range of 73%+ VG premium e-juices. Tonix e-liquids are made by the highly-popular Element brand in Florida, USA and you can buy them from us in the UK. Tonix Sub-atomic Compounds e-liquids (the full name apparently) are available in 10ml TPD compliant bottles and 0, 3 and 6mg nicotine strengths.
Like all Element e-liquids, Tonix e-liquids are formulated with a higher concentration of Vegetable Glycerine and less nicotine to produce dense clouds. Ideal all day and sub-ohm vape. You can vape Tonix e-liquids as soon as you receive them. Tonix e-liquids by ELEMENT are made with Pharma USP grade ingredients sourced from the most trusted names in the pharmaceutical industry, ensuring unparalleled purity and quality. The nicotine ELEMENT use is extracted from natural American tobacco leaves, not artificially created in a lab. Free from Diacetyl. ELEMENT e-liquids are officially TPD compliant.
Tonix e-liquid flavours:
Tonix e-liquid Blood Orange - Bright bursts of citrus and naturally sweet blood orange blend.
Tonix e-liquid PB and Blueberry Jam - Luxuriously creamy and undeniably dreamy union of peanut butter and jam.
Tonix e-liquid Tangy Tart - A daring rendition of sweet and tart to knock your taste buds out. A full bodied fruity concoction.
Tonix e-liquid American Apple Pie - Sweet cinnamon and crisp apples intermingle rendering a blend that is bold in flavour and heritage.
Tonix e-liquid Cherry Almond - Bright and lively cherries with subtle notes of sweet candied almonds.
We also sell ELEMENT 80% VG Dripper Juice >>. And the FAR e-liquids by ELEMENT >>.