SONRISE - Cosmic Fog premium e-liquid - 70% VG - 50ml
SKU:

UPC:
Description
SONRISE e-liquid by COSMIC FOG. 70% VG 30% PG. Made in Newport Beach, Orange County, California. Cosmic Fog e-liquids are supplied in zero nicotine 50ml shortfill bottles.
FLAVOURS:
COSMIC FOG SONRISE - flavours are sweet and savoury passion fruit blended with smooth, exotic kiwi and pineapples.
GUIDANCE - PLEASE READ
This product is ideal for use with a nicotine shot, OR without for cloud chasing, where nicotine is not desired. 10ml unflavoured 18mg nicotine shots are available as an add-on product.
One 10ml nicotine shot at 18mg nicotine strength, when added to (diluted into) this bottle of 50ml zero-nicotine e-liquid will produce 60ml of e-liquid at a nicotine strength of 3mg.
ABOUT COSMIC FOG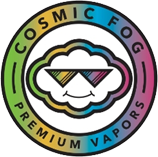 Cosmic Fog's founding mission was to create the highest-quality, most unique and thoroughly-tested e-liquids the vaping world has ever tasted. They spend 7 to 10 months crafting each flavour; combining their culinary skills and experience, dedicated research and feedback to craft every e-juice blend into a unique vaping experience.
Each new Cosmic Fog eliquid flavour blend is vaped by the creators/mixers/founders for many weeks after initial development, and proportionally adapted to ensure that the final result is blended to perfection and will also stand the test of time. The Cosmic Fog team only launch a new eliquid blend once they consider it to be an exceptional all-day vape. Cosmic Fog e-liquids contain USA-made vegetable glycerin, propylene glycol, artificial and natural flavourings and a percentage of nicotine.
Warning
You must be at least 18 years of age to buy e-liquids and vaping products from our website. Vaping e-liquids is at your own risk. Electronic Cigarettes and e-liquids should not be used by pregnant women or people who are intolerant or allergic to Propylene Glycol or Vegetable Glycerine. E-Cigarettes are not designed to help you quit smoking but are an alternative method of consuming nicotine. Nicotine is an addictive drug therefore if you have never used a substance containing nicotine we recommend you don't start using e-liquids containing nicotine. If you experience any side effects, stop using your e-cigarette immediately and consult a Doctor. E-liquids may be poisonous if ingested. Keep e-liquids and vaping hardware away from children and pets.
View All
Close