Shlurp e-liquids 80% VG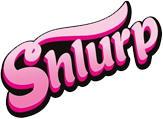 Shlurp e-liquids are 80% VG / 20% flavourings and PG. Shlurp e-liquids are made in the UK and sold in distinctive TPD compliant packs of 4 x 10ml bottles = 40ml. Based around fruit cola flavours.
The Original Shlurp is bizarrely described as "a mix of the juiciest snoz berries, zang fruits and cosmic aloe vera crystals, infused with intergalactic cola imported from the future".
Cold Filtered Shlurp e-liquid is the same as the Original Shlurp, but with an added icicle frost and tingleberry nectar, distilled on the frozen planet of titzoff for 1003 light years. (Menthol cola).
Shlurp Export is a cocktail of purple space fizz, zinging nettles and slug slime sofa, steeped in the active galactic nuclei of cosmos. (Mixed berry and cola).