Miami Drip Club 70% VG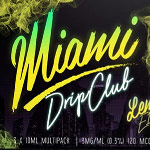 Miami Drip Club e-liquids are 70% VG / 30% PG, made in the UK and supplied in TPD compliant packs of 3 x 10ml bottles = 30ml. From the same mixologist grandmasters who brought us Cheap Thrill.
Lemon Eleven - lemon donut
Little Havana - caramel, cinnamon, biscuit and a haze of tobacco
Ocean Lime - citrus fruits.