Koncept XIX eliquid 80% VG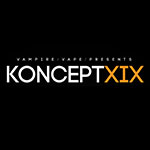 Koncept XIX is a new range of eliquids by UK based Vampire Vape. They are 80% VG and 20% PG. Koncept XIX comprises 12 fruit and pudding flavours across 4 collections. Flavours include Sticky Spot, Golden Thrill, Get Cubed, Heisenberg, Pinkman, BloodSukka, Pie Eyed, Phat Drizzle, Poley Rolly, Allday Grape, Kool Kick and TikaTaka.
Koncept XIX eliquid bottles are 50ml of liquid in a 60ml bottle, and can be used with one 10ml 18mg nicotine shot to make 60ml of 3mg nicotine e-liquid. Or just used as a zero nicotine juice.
Sticky Spot – Strawberry and toffee. Golden Thrill – Mango. Get Cubed – Fizzy cola. TikaTaka – Orange menthol. Allday Grape – grape menthol. Kool Kick – Lemon menthol. Phat Drizzle – Vanilla sponge cake with caramel. Pie Eyed – Lemon pie. Poley Rolly – Jam pudding and custard.