FAR e-liquids by Element 75%VG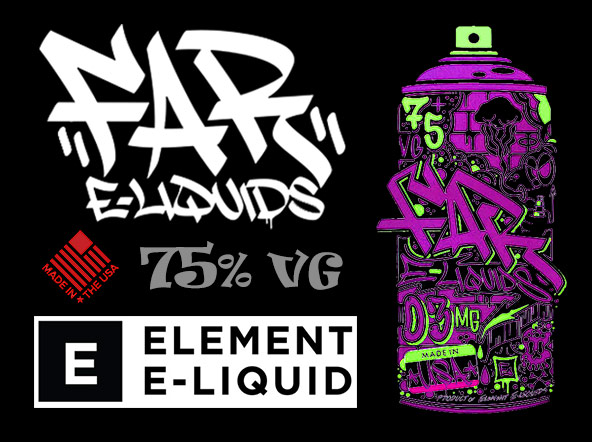 Far e-liquids are made by the highly popular Element brand in Florida, USA and you can buy them from us in the UK. 75% VG.
FAR e-liquids are formulated with a higher concentration of Vegetable Glycerine and less nicotine to produce the purest, densest clouds possible! Ideal for use with drippers and other sub-ohm devices. You can vape FAR e-liquids as soon as you receive them. FAR e-liquids by ELEMENT are made with Pharma USP grade ingredients sourced from the most trusted names in the pharmaceutical industry, ensuring unparalleled purity and quality. The nicotine ELEMENT use is extracted from natural American tobacco leaves, not artificially created in a lab. Free from Diacetyl.
Far e-liquid flavours:
Strawberry Cupcake - a strawberry vanilla cupcake.
Candy Punch - bursts of juicy rainbow candy.
Grape Vape - full-bodied juicy medley of ruby and red grapes.
Neon Green Slushie - one of a kind mouth-watering and invigorating citrus lime blend.
Neon Red Slushie - cool mixed berry slushie.
Pineapple Bliss - a fusion of ripe and tangy pineapple with sweet berry and tropical mango.
Marshmallow Breeze - marshmallow and mint.