Bad Drip e-liquids 80% VG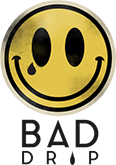 Bad Drip e-liquids are available in zero nicotine 50ml short fill bottles and 3mg nicotine 10ml bottles and are a 80% VG / 20% PG mix. Made in The USA.
Bad Drip Flavours
Bad Blood - blueberry spattered with the blood of a pomegranate, hit off with a trace of vanilla dusting.
Cereal Trip - fruit cereal on top of a gooey frosted donut, drowning in a sugar-rich milk bath.
Farley's Gnarly Sauce - tangy kiwi and strawberries dipped in a light bubblegum nectar.
Ugly Butter - Uncle Freddy's famous, fancy fried dough with cinnamon-sugar and banana pudding.
Don't Care Bear - melon, pear and Peach flavours.